Linear Digital Scales & EZ-Fit Kits
Capacitive linear digital scales - available separately or in kits with mounting brackets to fit your machine. These scales are first quality - from China's largest and oldest instrument manufacturer. We source them directly from the importer and they carry a one year domestic warranty.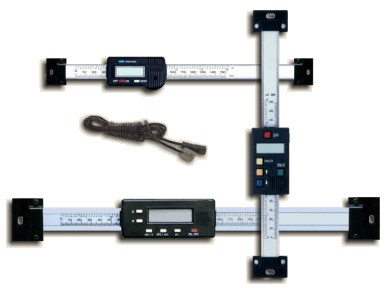 ---
Overview
Available separately in either horizontal or vertical styles in a wide range of lengths, these scales can be used on virtually any type of machine to provide accurate position information. Beam End Clips, a slider Z-Clip, and a Silver Oxide Battery are included. Standard scales come with 3 buttons - Inch/Millimeter, Zero, and On/Off. Some models include additional buttons or functions such as; Preset, ABS (absolute), and Set. All scales have a Data Port output which can be connected to remote LCD displays, DROs (Digital Read Outs), or PCs. Data cables are available separately.
For convenience and quick installation, sets of scales are also available in pre-configured kits which include specific mounting brackets to fit popular home shop mill-drills, milling machines, and lathes. If you don't see a scale kit listed for your particular machine, please ask us about it. Kit development is ongoing and a kit for your machine may already be "in the works". If you have a vintage or a less popular brand of machine, we may still be able to help save you time and effort in adapting scales to it. For instance, an existing kit may contain brackets which can be easily modified to suit your installation.
Scales offered by HobbyMetrix are first quality. They are manufactured by China's largest and oldest CE/ISO9001;2000 certified instrument manufacturer and we source them directly from the importer. The sliding readout has adjustable brass gibs which ride on hardened stainless steel beams. The size of a scale's beam depends on its length. Scales 16 inches and shorter are supplied with beams having a cross section of 16mm x 4mm for the horizontal type and 20mm x 4mm for the vertical type. Longer horizontal scales are delivered with heavy duty beams, measuring 24mm x 5.5mm - to provide increased support for their extended lengths. Standard scales are packaged in cardboard cartons and the heavy duty scales come in wooden cases.
Scales which fit popular home shop machines typically do not exceed 36" (900mm), however, scales are manufactured in lengths up to 80" (2000mm). If you need a scale which is longer than those listed below, please contact us for availability. Scales may easily be shortened using a rotary tool with a small abrasive wheel.
[ top ]
---
Features
Mechanical
Available in Horizontal & Vertical styles
Adjustable Brass Gibs & Hardened Stainless Steel beam
Beam End Clips, Encoder Z-Clip, SR-44 Battery
Integrated Wipers
Resolution: 0.0005in (0.01mm)
Repeatable Accuracy +/- 0.001 (0.03mm)
Electrical
LCD Display - 6 digits
Rapid Update setting - fast position tracking
Data Port - to DROs, printers, PCs
Functional
Imperial/Metric
Zero - at any position
On/Off
Preset (some models)
ABS (some models)
[ top ]
---
We think you'll really like [YADRO] - a powerful software DRO
with a hardware interface.
Buy It
Anxious to buy? Can't wait for our on-line shopping cart? No Problem! [more]
Prices are in Canadian Dollars and are subject to change without notice. (Taxes not included.)
| | | |
| --- | --- | --- |
| | EZ-FIT KITS | |

EZ-Fit Scale/Bracket Kits for "X1-Extended" Style Mini Mills

CSK-MX1E

3-Axis Scale & Bracket Kit

X-Axis Horizontal Scale - 12"
Y-Axis Horizontal Scale - 6"
Z-Axis Vertical Scale - 12"
Installation Brackets (to mount 3 scales to Mini Mill-Drill) [click to view]
Detailed Installation Guide (clear step-by-step, with photos)
Data Port Cables [click to view] - 3pcs for connection to [YADRO] or other DRO

Have a non-standard Mini Mill? We can probably still help - [

Contact Us

].

$287.95 CDN

Delivery: Stock to 10 Days

EZ-Fit Scale/Bracket Kits for "X2" Style Mini Mills

CSK-MX2

3-Axis Scale & Bracket Kit

X-Axis Horizontal Scale - 12"
Y-Axis Horizontal Scale - 6"
Z-Axis Vertical Scale - 8"
Installation Brackets (to mount 3 scales to Mini Mill-Drill)
Detailed Installation Guide (clear step-by-step, with photos)
Data Port Cables [click to view] - 3pcs for connection to [YADRO] or other DRO

Have a non-standard Mini Mill? We can probably still help - [

Contact Us

].

$269.95 CDN

Delivery: Stock to 10 Days

EZ-Fit Scale/Bracket Kits for "X3" Style Mini Mills

CSK-MX3

3-Axis Scale & Bracket Kit

X-Axis Horizontal Scale - 16"
Y-Axis Horizontal Scale - 6"
Z-Axis Vertical Scale - 5"
Installation Brackets (to mount 3 scales to Mini Mill-Drill)
Detailed Installation Guide (clear step-by-step, with photos)
Data Port Cables [click to view] - 3pcs for connection to [YADRO] or other DRO

This EZ-Fit Kit consists of appropriately sized scales to fit X3 machines, along with X2 bracketry. Although some minor modification and fitting of the brackets may be required, they will still save you hours of design and fabrication time.

$289.95 CDN

Delivery: Stock to 10 Days

EZ-Fit Scale/Bracket Kit for RF-25 Mill-Drill

CSK-MRF25

3-Axis Scale & Bracket Kit

X-Axis Horizontal Scale - 16"
Y-Axis Horizontal Scale - 6"
Z-Axis Vertical Scale - 4"
Installation Brackets (to mount 3 scales to Mill-Drill) [click to view]
Detailed Installation Guide (clear step-by-step, with photos)
Data Port Cables [click to view] - 3pcs for connection to [YADRO] or other DRO

There tend to be many variations of the RF-25 Mill-Drill - more so than within the rest of the RF model line. This EZ-Fit Kit consists of appropriately sized scales to fit common RF-25 dimensions, along with RF-31 bracketry. Although some minor modification and fitting of the brackets may be required, they will still save you hours of design and fabrication time.

$283.95 CDN

Delivery: Stock to 10 Days

EZ-Fit Scale/Bracket Kit for RF-31 Mill-Drill

CSK-MRF31

3-Axis Scale & Bracket Kit

X-Axis Horizontal Scale - 20"
Y-Axis Horizontal Scale - 8"
Z-Axis Vertical Scale - 5"
Installation Brackets (to mount 3 scales to Mill-Drill)
Detailed Installation Guide (clear step-by-step, with photos)
Data Port Cables [click to view] - 3pcs for connection to [YADRO] or other DRO

$324.95 CDN

Delivery: Stock to 10 Days

EZ-Fit Scale/Bracket Kit for RF-40 Mill-Drill

CSK-MRF40

3-Axis Scale & Bracket Kit

X-Axis Horizontal Scale - 20"
Y-Axis Horizontal Scale - 8"
Z-Axis Vertical Scale - 5"
Installation Brackets (to mount 3 scales to Mill-Drill)
Detailed Installation Guide (clear step-by-step, with photos)
Data Port Cables [click to view] - 3pcs for connection to [YADRO] or other DRO

$324.95 CDN

Delivery: Stock to 10 Days

EZ-Fit Scale/Bracket Kit for RF-45 Mill-Drill

CSK-MRF45

3-Axis Scale & Bracket Kit

X-Axis Horizontal Scale - 24"
Y-Axis Horizontal Scale - 8"
Z-Axis Vertical Scale - 5"
Installation Brackets (to mount 3 scales to Mill-Drill)
Detailed Installation Guide (clear step-by-step, with photos)
Data Port Cables [click to view] - 3pcs for connection to [YADRO] or other DRO

$353.95 CDN

Delivery: Stock to 10 Days

EZ-Fit Scale/Bracket Kit for Bridgeport Quill

CSK-MBPQ

Provides 4th Axis for Bridgeport (and similar) Knee Mills

6" Vertical Scale
Head Mounting Bracket
80" Data Port Cable [click to view] - for connection to [YADRO] or other DRO
Spare SR-44 Style Battery
A perfect companion for YADRO's new Knee & Quill support!

May be used without DRO by reading directly from scale's LCD display (no cable required - deduct $10)

$109.95 CDN

Delivery: Stock to 10 Days

EZ-Fit Scale/Bracket Kits for Lathes

Now Available !

Kits to fit popular Full Sized Lathes and also Mini Lathes
more details coming soon

Contact Us

Delivery: Stock to 10 Days

[ top of EZ-Fit Kits ] [ top of Buy It ] [ top ]

| | | |
| --- | --- | --- |
| | HORIZONTAL - SHORT | |

Linear Digital Scale - Horizontal - 4" (100mm)

CSH-004

Total Travel 4" (100mm) - Overall Length 8-1/4" (209mm) - Standard Beam

Zero Setting - Any Position
Inch/mm Display
On/Off Button
SPC Data Port
Hardened Stainless Steel
Resolution 0.0005" (0.01mm)
Repeatable Accuracy +/- 0.001" (0.03mm)
Integrated Wipers
End Clips & Encoder Z-Bracket
Display LCD - 6 Digits
Spare Battery

$41.95 CDN

Delivery: Stock to 10 Days

Linear Digital Scale - Horizontal - 6" (150mm)

CSH-006

Total Travel 6" (150mm) - Overall Length 10-1/4" (259mm) - Standard Beam

$44.95 CDN

Delivery: Stock to 10 Days

Linear Digital Scale - Horizontal - 8" (200mm)

CSH-008

Total Travel 8 " (200mm) - Overall Length 12-1/4" (310mm) - Standard Beam

$51.95 CDN

Delivery: Stock to 10 Days

Linear Digital Scale - Horizontal - 12" (300mm)

CSH-012

Total Travel 12 " (300mm) - Overall Length 17-1/2" (444mm) - Standard Beam

$71.95 CDN

Delivery: Stock to 10 Days

Linear Digital Scale - Horizontal - 16" (400mm)

CSH-016

Total Travel 16" (400mm) - Overall Length 23" (594mm) - Standard Beam

$97.95 CDN

Delivery: Stock to 10 Days

[ top of Horizontal - Short ] [ top of Buy It ] [ top ]

| | | |
| --- | --- | --- |
| | HORIZONTAL - LONG | |

Linear Digital Scale - Horizontal - 20 " (500mm)

CSH-020

Total Travel 20 " (500mm) - Overall Length 26-3/4" (682mm) - Heavy Duty Beam

Zero Setting - Any Position
Absolute & Incremental Set Points
Inch/mm Display
On/Off Button
SPC Data Port
Hardened Stainless Steel
Resolution 0.0005" (0.01mm)
Repeatable Accuracy +/- 0.001" (0.03mm)
Integrated Wipers
End Clips & Encoder Z-Bracket
Display LCD - 6 Digits
Spare Battery

$125.95 CDN

Delivery: Stock to 10 Days

Linear Digital Scale - Horizontal - 24 " (600mm)

CSH-024

Total Travel 24 " (600mm) - Overall Length 30-3/4" (782mm) - Heavy Duty Beam

$154.95 CDN

Delivery: Stock to 10 Days

Linear Digital Scale - Horizontal - 28" (700mm)

CSH-028

Total Travel 28" (700mm) - Overall Length 34-3/4" (882mm) - Heavy Duty Beam

$189.95 CDN

Delivery: Special Order - up to 60 Days

Linear Digital Scale - Horizontal - 32 " (800mm)

CSH-032

Total Travel 32" (800mm) - Overall Length 38-1/4" (982mm) - Heavy Duty Beam

$229.95 CDN

Delivery: Stock to 10 Days

Linear Digital Scale - Horizontal - 36 " (900mm)

CSH-036

Total Travel 36 " (900mm) - Overall Length 42-1/2" (1082mm) - Heavy Duty Beam

$259.95 CDN

Delivery: Stock to 10 Days

[ top of Horizontal - Long ] [ top of Buy It ] [ top ]

| | | |
| --- | --- | --- |
| | VERTICAL | |

Linear Digital Scale - Vertical - 4" (100mm)

CSV-004

Total Travel 4" (100mm) - Overall Length 10" (254mm) - Medium Duty Beam

Zero Setting - Any Position
Reading +/- Setable
Inch/mm Display
On/Off Button
SPC Data Port
Hardened Stainless Steel
Resolution 0.0005" (0.01mm)
Repeatable Accuracy +/- 0.001" (0.03mm)
Integrated Wipers
End Clips & Encoder Z-Bracket
Display LCD - 6 Digits
Spare Battery

$51.95 CDN

Delivery: Stock to 10 Days

Linear Digital Scale - Vertical - 6 " (150mm)

CSV-006

Total Travel 6 " (150mm) - Overall Length 11-1/2" (294mm) - Medium Duty Beam

$57.95 CDN

Delivery: Stock to 10 Days

Linear Digital Scale - Vertical - 8" (200mm)

CSV-008

Total Travel 8 " (200mm) - Overall Length 13-1/2" (344mm) - Medium Duty Beam

$65.95 CDN

Delivery: Stock to 10 Days

Linear Digital Scale - Vertical - 12 " (300mm)

CSV-012

Total Travel 12 " (300mm) - Overall Length 17-1/2" (444mm) - Medium Duty Beam

$81.95 CDN

Delivery: Stock to 10 Days

Linear Digital Scale - Vertical - 16 " (400mm)

CSV-016

Total Travel 16 " (400mm) - Overall Length 23-1/4 " (594mm) - Medium Duty Beam

$105.95 CDN

Delivery: Special Order - up to 60 Days

[ top of Vertical ] [ top of Buy It ] [ top ]